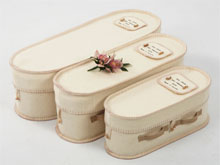 Woollen Coffins
When you're putting your pet friends to rest for their last, long, goodnight, woollen coffins will work well. Woollen coffins are less expensive than traditional wood or stone coffins for pets and they will degrade over time without damaging the ecology. Dogs, cats and small animals too can be properly buried in dignity wrapped in a woollen coffin. For pets, these coffins are crafted well beyond the capacity of simply being knitted: woollen coffins look tactful and traditional. The only thing different between a woollen coffin and a wooden one is the material they're composed of and their rate of decomposition.
Giving a Green Burial Service
While the reasonable cost for woollen coffins makes them ideal for pet services, woollen coffins are also crafted for humans. Full size coffins will both save the ecology of where they are buried. Woollen coffins, when dyed, are only dyed with natural products to eliminate the possibility of toxic exposure to the soil. Unlike the wooden caskets that have polyurethane and staining which will pollute the cemetery grounds and land nearby, woollen coffins simply degrade, break down and decompose with the body of the deceased. For environmentally-conscious dearly departed, the option of a woollen casket could certainly help fulfill a last wish – if they hadn't specifically stated they want a green funeral, consider their disposition towards the ecology and see if the reasonable pricing helps in making your decision for a green funeral concrete.
Reasonable Coffin Costs
Whereas the typical cost for a coffin in the States is a whopping $4,500, eco-friendly woollen coffins cost considerably less depending on where you get them. For instance, getting a woollen coffin through England's premier textile producer Hainsworth will set you back a few more pennies than a reputable and mid-sized manufacturer without incredible brand status. Still, regardless of where you go for your woollen coffin you can expect to pay between $500 – $1,500 depending on the model you like. When compared to a solid, polished cedar coffin with brass pallbearer bars and decorative, inscribed metal plates bearing name, date of birth and date of death, woollen coffins are the no-brainer for folks without wealth to spend on a funeral!
Woollen Coffins for Pets
Considering that woollen coffins are extremely reasonable for humans, pet coffins made out of the material are even less expensive and will add a touch to any goodbye to a loved friend. Woollen coffins come in sizes for dogs, cats, snakes and small animals like guinnea pigs and ferrets. When you need to bid your fond friend farewell, a quality coffin can be obtained for less than a night at the movies for two. Often times having a coffin and service will put children at rest concerning the loss – often adults benefit from it as well! When it's time to send your friend to the meadow beyond Rainbow Bridge according to the old tale, put them in a woollen coffin before their journey so that the ride is comfortable and quick for them.