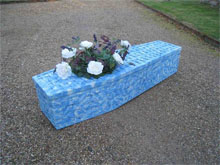 Paper Mache Coffins
Many eco-friendly entrepreneurs have ventured out to change the way the coffin manufacturing industry works. Given that fact, nowadays there is a higher demand for "green" products and many companies have decided to offer more than just traditional coffins by manufacturing and selling biodegradable coffins. There are many different biodegradable materials that can be used for these coffins and one of them is paper mache. Paper mache coffins are handmade in their entirety by the manufacturer.Generally either newspaper or some other thin paper is used as the primary construction material. Once a dearly departed is buriedin a paper mache coffin, the coffinwill dissolve naturally presenting no danger to the environment or the decomposition of the body.
Small Animal and Pet Coffins
As a kid, you probably had to make different handicrafts at school using paper mache. People make use of paper mache to craftdecorations for Halloween or other events. A paper mache coffin can be a great solution for your pets burial. Since pets are smaller than human beings, their coffins are easier and cheaper to make. If you have a hamster or a guinea pig and you do not want to bury it in a shoebox, you can make its coffin from paper mache. If you aren't sure how you can always find an online merchantand purchase one!There are stores offering eco-friendly coffins and you'll surely seea selection made out of paper mache.
Biodegradable Because They're Paper Mache!
Many materials can be used to manufacture a biodegradable coffin. Paper mache is one because it is usually made from organic paper pulp which doesn't pollute the planet. There are some manufacturers that take orders for custom made coffins. In general,eco-friendly paint is used in order to make the coffins more attractive and personalized. A lot of the new manufacturers are entrepreneurs that are concerned about the health of the environment.That's why they make sure that they only offer coffins that are 100% eco-friendly. Paper mache can be the perfect material to craft your pet's coffin for this reason.
Small Cost – Big Meaning: Funerals for Pets
Everybody knows that funerals are expensive. The coffin usually makes up over fifty percent of the total bill.If you're able to save money on the coffin, you will be reducing your total costs by a lot. This is no different for pet funerals and services.You might have the desire to give your furry friend a last, memorable goodbye but may not be sure how much it costs. By either making or purchasing a paper mache coffin you'll be able to keep costs low. They are inexpensive, especially for pets. There are manufacturers that make paper mache coffins in styles, shapes, and sizes appropriate for pets. If your pet was a small pet such as a mouse, guinea pig, hamster, or sugar glider, the best option is a paper mache coffin because it will provide your pet with an ecologically responsible final place to rest.