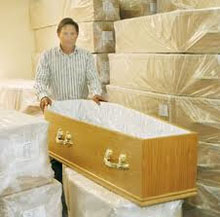 Cardboard Coffins
With a fast growing demand for products that are friendly to the environment,a new window has opened for cardboard coffins. These coffins come as a great solution for people that are aware of the dangers that our environment has been facing. Cardboard coffins decompose faster and better than traditional coffins that are made with chemically treated materials.They are also inexpensive and come in different styles and colors. These coffins are made for in-ground burial but can also be used for cremation. A lot of the manufacturers that produce cardboard coffins also have them available in human size as well as for pets.
Pet Funeral Services
Saying goodbye to your pet can be difficult, especially if they were around for a long time. The fact that they are animals does not make them unworthy of a proper and dignified memorial service. In the last decade, more funeral homes for pets have emerged - they provide the same service for your pet as they would for a human being. Some of the services that you can expect the home to provide are as follows:
the collection of your pet from your home or veterinary office
selection of the coffin
burial services
cremation if desired
columbarium
counseling.
Manytimes, they might also provide some sort of payment plan if you are unable to pay the amount in full.
Cardboard Coffins for Your Lil' Friend
Many conscientious pet owners have decided to say goodbye to their little friends in a cardboard coffin. Given that cardboard coffins are eco-friendly and can decompose faster, they are now used for people and for pets. More and more people are using cardboard coffins because of their cheaper price compared to traditional coffins. Some funeral homes for pets offer a wide variety of coffins: if you do not find one you love you can use the internet to search for one and the funeral home will be glad to make use of it. Cardboard coffins online are delivered quickly after the order is placed. Cardboard coffins are available for almost any pet.It doesn't matter if they are small, medium, or large-sized animals, just make sure you measure them so you can purchase their coffin in confidence.
Saying Goodbye in a Memorable Way
Saying goodbye is hard, saying goodbye forever can be unbearable. The best way to deal with the pain is by giving your pet a memorable and intimate farewell. Some people like large services with many people attending while others like private, more intimate goodbyes. Whichever is the case, cardboard coffins can be the attractive centerpiece your loved one is laid out within. It is up to you to find the coffin that best represents your dearly departed. One of the advantages of a cardboard coffin is that they can be used for in-ground burial as well as for cremation. Even if you decide that you want to cremate and later scatter the ashes, you can still make use of a beautiful and inexpensive cardboard coffin.