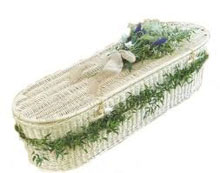 Willow Coffins
Not everyone likes to take the beaten path: for those that carve their own paths, funeral processions and materials are available to honor the memory of iconoclastic folks after passing. Willow coffins are a unique alternative to the polished cedar and oak coffins that the US typically puts their dead into when it comes time for a memorial service. Willow coffins are woven branches of willow trees that create strong sides and form for this particular coffin type. If the departed had been a nature-lover or an ecologically concerned citizen, willow coffins are a tremendous way to memorialize their life.
A Unique Piece of Nature
Willow caskets for the dearly departed are woven together and trimmed with assorted colors. These coffins can be woven to have a curvature at the top or can be made simply as a box-style coffin. As willow branches are flexible and strong, even large dearly departed family members can be carried in a willow coffin without risk. These woven, wooden beauties are a unique alternative to the extravagant, polished coffins that cost so much that it can break the bank of families facing an unexpected funeral. Willow coffins usually range between $1,000-$2,000 which is an immense savings versus the average cost of a coffin in the States: $4,500!
Departing this World Beneath Willow Branches
For many people who have an affinity towards nature, being buried beneath willow branches can be a soothing feeling for them in life. Many folks request a willow coffin specifically because they are ecologically harmless and they are less of a burden on the family than a polished, solid wood coffin. Woven willow branches can be set up to feature cross patterns, colorful patterns and more. If you're looking for a casket that can be personalized for your dearly departed, willow coffins are among the least expensive to decorate. There are also different styles of willow coffins that range from very plain to tightly woven and intricately detailed. Because of their economy, ecological efficiency and breadth of style, willow coffins are a popular favorite resting place for many US and UK citizens.
A Beautiful Coffin for the Nature Loving Departed
Willow coffins can be custom designed and colored: if the recently departed's favorite color was green, for instance, handles, trim and even the cross atop can be woven into the casket in the color green. In addition to their naturally sleek look, willow branches have special religious significance for some religions. Even in the case that the departed has requested a non-denominational ceremony, willow coffins are ideal on a strictly environmental and pricing basis. If you or a loved one have yet to discuss plans for coffins and funeral services upon passing, have a minute to mull it over. Getting things in order ahead of time can save you significant amounts of money in the long run. Willow coffins will always be reasonable and planet-friendly but affairs like the viewing, the funeral and more can be cheaper if booked in advance.