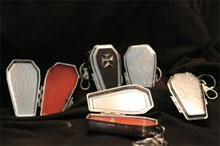 Small Coffins
A New Idea
When the casket of your loved one is concerned, it should be just nice for the deceased to fit in and be comfortable. That is why coffins come in many different sizes, as one size would definitely not fit all. You would not wish to see scenarios like the coffin being too small to fit in or too big for comfort, right? Standard sized caskets are for the average adult, however, there are people who can be abnormally tall, small or huge in size. Even small children need small coffins in cases of deaths. So, it is only natural for small coffins to be available at casket dealers.
Typically small coffins are for children who unfortunately leave the earth at a young age, or for people who suffer from dwarfism, where their bodies stop growing at the certain age, resulting in a child-like physical appearance. For children (those under fourteen of age), special provisions are required, and they are incorporated into coffin constructions for children.
Are they special in any way?
Usually, according to tradition, children are buried in small coffins painted in white, which symbolises purity. A child's innocence as well as being under the age of accountability makes it only natural to bury them in white.
The exterior design may differ according to the personality or the preferences of the deceased when they were still alive. The most traditional type of small coffins is the white casket with brass plated handles. Some may be material covered with various types of motifs, while some may be covered in satin, with pleated lid and brass handles. Nowadays, some coffin dealers or manufacturers even provide you with custom made coffins, allowing finish with chosen designs or colours, all hand painted and words manually inscribed. These are made to fit individual preferences and requirements.
How are they priced?
It is difficult to approximate the pricing of children small coffins, as they vary in accordance to the material, interior, and also design, as well as many other factors.  However, one thing that is sure is the price increases as the small coffins get more exquisite, higher quality material and better workmanship. But usually, when you get small coffins from the dealers, the price range is around $500 to $5000 (more sophisticated ones).
Different types of small coffins for children
Small coffins, despite made in different shapes and sizes, they are also made from various types of materials, to suit different needs (burial or cremation), and sometimes to look beautiful on funerals.
Cloth covered small coffins
Small coffins with steel gauges
Non-gasketed small coffins for children
Hardwood small coffins
Steel child coffins
Bronze or copper small coffins for children
The manufacturer usually produces different types of coffins in two designs, with or without handles, so that you can choose the most suitable one for the deceased.
Lastly, when you seek the services of funeral parlours or coffin dealers at times of bereavement, most of them will offer you advice on which coffin to choose and what service you require. Voicing out your opinions and needs would help in getting the most suitable coffin for your loved one.