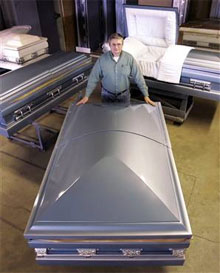 Extra Large Coffins
Extra Large - No Longer the Odd Size
At first glance, you might think that it is a uniquely designed bed. But upon closer inspection, you would realize that it is actually an extra large coffin. We have heard of airlines adjusting their seats to accommodate larger people. We have also seen stores no longer carrying S sizes for children but have included XL and XXL sized clothing for the young ones. This bigger and larger concept has also crept into the coffin and casket industry players who are producing extra large coffins equivalent to a queen sized bed
Obesity is now a national epidemic in the United States. Not only is there a need for extra large coffins, the average sized coffins are now being made wider from the regular 23 - 24 inches to 27 inches. Although at 27 inches, the larger regular coffins are still able to fit into a standard sized burial plot. This is the opposite case for the extra large coffins that require at least 2 burial plots which means the family of the deceased will have to incur higher funeral expenses. This is additional expenditure for the bereaved family as the extra large coffin costs 20 to 50 percent more than a regular sized coffin.
For a Comfortable Fit
The emergence of extra large coffins was to restore dignity and integrity to the deceased and the family. There were cases in the past where the legs of the deceased had to be bent or folded in order to fit into the regular sized coffin. A wife in Los Angeles decided to file a law suit against a funeral home that had her husbands' lower body contorted to fit into the coffin which she purchased at $ 5,000. Clearly the funeral director had underestimated the grieving wife when she said she needed an extra large coffin for her husband was 7 feet tall. Besides that, cremation is not an option as the amount of fat in the human body would make a clean and fast cremation very difficult to accomplish. Only recently we see some states constructing cremation buildings and facilities to accommodate these extra large caskets.
Extra large coffins have also altered the entire funeral process. These extra large coffins are more than often tilted sideways because they are too big to exit through doors. This causes the body inside the coffin to shift and bounce around. Normal black hearses are also not an option for extra large coffins. Extra large coffins will have to be transported away by a flat bed truck or a cargo van.
Extra large coffins are built to hold up to a thousand pounds; with so much weight not even ten pall bearers are insufficient to carry the coffin to the burial site. One of these days, the extra large coffins will have to be lifted using a small crane or some form of machinery. All in all, obesity has lead to extra large coffins which now leads to a whole new level of difficulty for the family as they endure the grieving process.