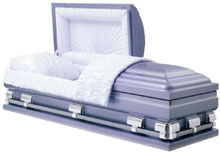 Different Sized Coffins
Coffins and caskets are terms used interchangeably but in the funeral industry they mean completely different things. A coffin is a six sided box that is wide at the top and narrows down towards the feet of the deceased. A casket on the other hand is a more modern take to the traditional coffin which is normally a four sided rectangle.
In the past, coffins are massed produced with the same measurements which are 84 inches by 28 inches and 23 inches in height. This is based on the assumption that an average human being would be 6 feet tall and weigh about 70 – 75 kg. However, this standard coffin size is no longer applicable. Due to our lavish eating habits and lack of exercise, obesity rate among young children and aging adults have rocketed sky high. Thus, there is no longer one size fits all when it comes to coffins.
Coffin Sizes
As a guideline, coffin sizes are labeled from a size one to a size seven. Size one are small coffins meant for the burial or cremation stillborns and infant deaths where as the size seven is the largest size meant for full grown adults. A family in Cincinnati was bereaved by the death of their loved one who weighed 500 pounds. The funeral house was unable to fit her body into the size seven coffins and she had to be buried with the coffin lid partially a jar. This incident teaches us that it is extremely important to select a coffin of a suitable size.
The biggest and most common problem with the coffin size is the width of the coffin. The standard 28 inches was determined back in the 19th century before the economic boom which allowed everyone to enjoy lavish food. In this millennium, funeral houses have to provide over sized coffins as wide as 52 inches to prevent the Cincinnati incident from ever occurring again.
The Over-sized Coffin
With the introduction of over sized coffins also known as the Goliath Coffin, many other aspects of the funeral has to be taken into consideration as well. With a larger coffin the standard burials plot as to be more than three feet wide. Several cemeteries have taken the step to dig wider burial plots up to four feet to accommodate the increase in larger coffins. Besides that, larger coffins can cause a logistical nightmare and therefore funeral houses are now offering larger hearses to transport the coffin from one place to another.
Furthermore, oversized caskets are more expensive. They can range anywhere between $2,000 to $3,000 depending on the material it is made of and the finishing design on the coffin. Most families in the States cannot afford such expensive coffins and have to opt for a cremation instead even though it is against their religious beliefs. Therefore it is important to set aside money for your last expenditure on Earth as not to burden your family with the expenses in arranging a funeral.