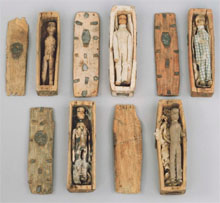 Miniature Coffins
Dark scary coffins
Though the main function for coffins is to hold dead bodies and act as resting places for the deceased, there is more to it than that. Commonly associated with death and darkness, coffins have always been a prominent symbol of gothic culture. Many Goths embrace coffin motifs on their attire, interior design and everything around them. With stories linking coffins to vampires and mummies, it has also become a popular icon and plays an important part in horror tales and movies.
Miniature coffin decors for Halloween!
People always don't want to miss out bringing out the scary element during Halloween in their costumes, accessories, and also decorations. Some people dress up as coffins, while it is a popular idea to make miniature coffins for decorations or gift ideas during Halloween. Reason why? The coffin already has a reputation of being a 'scary' thing to children.
Miniature coffins can be used for many purposes to add spookiness to the venue when Halloween is here. It is easy to set the mood right with these spooky little ornaments.
Fun little crafts for children
In addition, it is also a good idea for kids' handicraft, allowing them to make their own miniature coffins. It is simple and will amuse the kids at the same time. They can also decorate their DIY miniature coffins the way they like. If you make use of glow in the dark paint, these tiny little coffins will be out to spook the 'daylights' out of everyone when the lights are off.  After completion, these cute little crafts can be used to for décor or to spook. The best thing is, when you make these little decorations by yourself, you can play your part in protecting Mother Earth, as you can use recyclable materials for this purpose. They can save you money too, as budget decorations. Another plus is that these decorations can be reused next Halloween and the one after next.
Exquisite miniature coffin ornaments
Besides being a spooky item for Halloween, the coffin design is also a hit among decorative ornaments or jewellery. For example, an elegant and extremely luxurious ornament that features the coffin is the miniature coffin pendant of King Tut's resting place, made out of 14 karat gold. With its unique detail and delicate etchings of Egyptian scripts, is a fine masterpiece of art in the form of a miniature coffin.
There are many other miniature ornaments in the form of the coffin, including pendants, earrings, lockets and collectible miniature coffins. All these can be made from different materials, including wood, plastic glass and many more, some decorated with crystals and even diamonds.
Another good use for coffin ornaments is as jewellery box, as you can keep stuff in the cavity. Exquisite ones even have satin lining, making them fine and functional ornaments.
Although sometimes being labelled as a bad omen, coffins still remain popular over the decades as symbols and decorative items, especially in gothic culture. It would not lose its status, and will still remain a prominent symbol for decades to go.