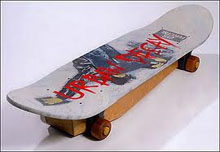 Unique Coffins
If you are planning to buy a coffin for a loved one, it is recommended that you shop wisely. Shopping for coffins is something that people only get to do very rarely so do not assume you are an expert on this. First things first; you need to find out if your dead loved one left any special instructions for his or her funeral arrangements, and if they didn't then the whole thing is in your hands. There are many different coffin designs that you can choose from, and a lot of people now have become more open to customized coffins that they can personalize based on their preferences.
Cost of Coffins
The average price of a coffin in the United States ranges from $1,000 to $4,000 for wood, and around $800 to $6,000 for metal. It goes without saying that high quality hardwood are more expensive, while those made of stainless steel, copper, and bronze are also costlier than ordinary metal coffins. Remember to set a budget before shopping for coffins so you don't end up spending more than what you can really afford.
An Overview on Unique Coffins
While it may seem offensive to some people, the use of unique coffins has actually become well known. Ghana is known for its unique coffin masterpieces, and these things come in all shapes, sizes, and colors in this country in West Africa. Coffins made to look like elephants, guns, airplanes, automobiles, beer bottles, shoes, cell phones, cigarettes, and lobsters can all be found in Ghana. Such things have become so popular that they have become tourist attractions. Every year, thousands of tourists flock to open-air showrooms just to catch a glimpse of these impressive and unique coffins and those who are unable to visit Ghana can also view these coffins in some museums across the country, such as the National Museum of Funeral History in Houston, TX. A carpenter named Kane Kwei who started building unique coffins during the 1940s first conceptualized these renowned Ghana coffins.  A lot of people order coffins from Ghana and pay a fortune on shipping fees but the good news is that many coffin-makers in the country can build customized or themed coffins for an extra cost.
Why Choose Unique Coffins
For an additional cost, you can have a truly unique and personalized design for the coffin that you want to give for a deceased loved one. There are companies that offer personalization services that allow you to choose colors, shapes, and other enhancements for your coffin. For example, you can add a quote or a short message that means something to the person who died. Many of these companies have design galleries that you can view to get ideas for the coffin, but they can also let you create your own unique designs with the help of their designers. Choosing a unique coffin that's been made to reflect the achievements, taste, and character of a loved one is an endearing way to tell this person (and everyone else) just how much he or she means to you.