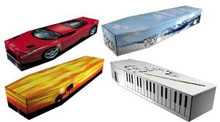 Unusual Coffins
Death is not a topic that a lot of people would want to talk about; but since it is inevitable, you might as well prepare for it. One of the things that need planning is the coffin that will be used. There are two types of coffin, wood and metal, and though 99% of the time you see coffins with conventional designs and styles, there are those who have made specific instructions to have their bodies placed inside unusual coffins.
Why Choose Unusual Coffins
If you're going to be buried 6 feet under, you might as well go in style. You don't have to settle with the usual colors and designs for your coffin. For example, you can choose other colors such as pink, green, and even purple instead of the more conventional black and brown shades. The important thing is that, as strange and uncommon as it may seem, your coffin should define who you are. There are other ways to come up with an unusual coffin and some of these ideas are discussed below.
Ideas for Unusual Coffins
The ideas are endless when it comes to making unusual coffins. There are coffin-makers who specialize in these things instead of producing conventional-looking coffins. Basically, you need to really allot a good amount of time thinking about what shape, design, and colors to use for your coffin. Think about the things you are most passionate about. There are pilots who would like to have coffins shaped as airplanes; sailors who have coffins shaped as boats; and musicians with coffins shaped as that of their favorite musical instruments. There are also coffins with flag designs made for patriotic individuals. If you are someone who loves flowers and gardens, then you can opt to have a coffin that has flowers printed all over it. If you can think it, then for sure, a skilled coffin-maker can build it for you.
The Most Unusual Coffins Ever Made
In the country, some of the most unusual coffins ever made are those that are shaped and made to look like whales, sharks, cell phones, traveling bags, shoes, as well as sodas. Over the years, more and more people have become attracted to the idea of getting unusual coffins for themselves when they die. Aside from personal preference, practices and beliefs also play a role in the use of uncommon coffins, which is why there are places around the world that where people put their dead loved ones in unusual coffins.
Where to Buy Unusual Coffins
If you know of a coffin-maker in your area, you can make an inquiry to find out if they make unusual coffins. If they don't, then the next best thing is to order online. There are websites that cater to custom-built coffins, which allow you to pick designs, colors, and shapes for your coffin. Often, but not really necessary, it is preferable to order from a company that is located in your city for ease of delivery. You may need to pay more for shipping and handling, if you are located in a different area, that's hundreds or thousands of miles away.