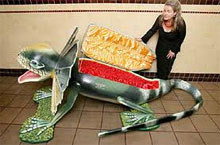 Crazy Coffins
You can see a lot of innovations in this modern world. Even coffins have evolved, and now, you can find crazy coffins being showcased in museums and funerals. The funeral rite is regarded as a very important ceremony everywhere in the world because it is an observance of a person's death.  Different cultures have different traditions during funerals. As a way of breaking free from the conventional practice, creative innovations on coffins are now trending although still not widely recognized because of people's high regard for the old tradition. Many talented coffin makers can actually make coffins that are out of the ordinary based on specific requests and instructions of their clients. Although the most commonly used are the traditional wooden and metal coffins, you can break-free from the norm by making your choice among custom-made 'crazy' coffins. From the term itself, these coffins are indeed outrageous in design and style.
How Crazy are Crazy Coffins?
How do you picture yourself being encased in a coffin resembling the Coca-Cola bottle, only that it is rather large in size to fit you? Or can you imagine being laid to rest inside a pineapple coffin? How about resting inside a shoe, forever? This is how crazy the ideas for crazy coffins can be. Do you want your coffin to be designed after your dream car, which you were never able to own? Well, in your funeral you can make it appear like you are driving a sleek corvette, using a corvette designed coffin. Other designs for crazy coffins are animal designs, and you can choose to lie inside a bird coffin, a fish coffin, a lion coffin, or the design of your favorite animal.
A Unique Representation of Yourself
Crazy coffins are just that – crazy and out of this world. Opting for crazy coffins simply implies that you want to go in style even during your funeral. You want to put a smile to the face of your loved ones who will send you to your final resting place when they see the crazy look of your coffin. It may appear bizarre to the many people who will attend the funeral ceremony and may leave them wondering why your coffin is designed that way, but it will also send them the message that what they see reflects the person peacefully lying inside it. You can think of something really crazy that will shock people, or you can ask the coffin makers for their brilliant ideas on something bizarre to use as design for your coffin. If you think about it, there really is no breaking of the normal tradition of funeral rites, since you are only making the best out of your last wishes before getting buried.
A Piece of Advice When Shopping for Crazy Coffins
You can choose to have a bizarre and completely unique design for your coffin, but do not go overboard. The concept of crazy coffins and weird looking caskets is still not widely recognized and accepted, especially in the United States so it would be best to think through your choices first before deciding on a particular crazy coffin idea.