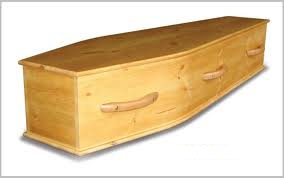 Coffins Resources
Solid Wood Coffins
For funeral parlours and coffin manufacturers, a large fraction of the sales come from solid wood coffins. This may be because this type of coffin dates back to centuries and can be said the most traditional coffin type available today.
What are solid wood coffins made from?
As understood from the name, the coffins are made out of solid wood, which are derived from ordinary lumber, and not engineered wood.
Types of solid wood
Solid wood is famous for its quality. Some popular types include solid oak, paulownia wood, solid pine, cherry wood, honey walnut wood, cedar wood and so on.
What's so good about them?
Most solid wood coffins such as those made of paulownia wood, which are more sustainable to the environment, available in oak effects (light and mid) as well as mahogany.
Solid wood has a great advantage in terms of appearance, as of all types of wood; it is the most attractive, compared to composite wood or engineered types such as plywood, strand board and fibreboard. Sometimes, solid wood is enhanced with finishes such as solid wood veneer, and sometimes overlays like vinyl and formica, giving it a shine and a glossy outlook. Engineered wood, on the other hand does not look that good, as for some types, you can see the layered structure on the ends, and lacks the shine and gloss found in solid wood.
Comparing in terms of wood quality, solid wood wins hands down, as it is original wood, while engineered wood producers can use all sorts of material in their production to cut cost, such as waste material like chips and sawdust, which makes them less durable and disintegrate within a short period of time. They are also more prone to insect damage and rat chews. Solid wood, made from large sections of defect-free wood, in fact has a much longer lifespan, and can even last for centuries. This makes solid wood the best choice of material for quality coffins.
How much for a solid wood coffin?
A solid wood coffin would definitely cost you more, and can be three times the price of a plywood one. However, we do not consider this a drawback, as it is definitely worth the price.
The pricing of solid wood coffins depend much on the type and quality of the materials. The price of soft wood coffins such as poplar and pine would be lower than hardwood ones, ranging from around $900 to $2,100. Hardwood ones such as oak, mahogany and maple tend to cost more, with a price range starting from $2,200 to $4,500. However, for high end solid wood coffins with more elaborate designs or furnishings, they can even cost you up to $30,000.
Should I or should I not?
Though which type of coffin to buy depends on your budget and requirements, if what you are looking for is a coffin or high quality and long lasting, solid wood coffins will be the best choice. They are also more environmentally sustainable compared to engineered wood and metal ones.