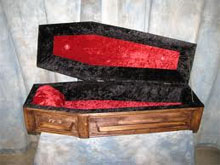 Irish Coffins
Ireland is one of the largest countries in the European Union and one of the countries with the richest history and culture. The Irish are known to hold close to their Christian beliefs: their art was influenced by several groups of Irish peoples such as the Celts, the Scottish, and Welsh. The mixture of all these different cultures led to the manifestation of beautiful art in the crafting of Irish coffins. Irish coffins are known to be handmade and designed beautifully with ornaments that make reference to Christianity and Celtic heritage. 
Stout Built Coffins for Catholics or Protestants
Irish people are known as tough people that can endure almost any trouble. Their coffins are made the same way: stout and built to last. They maintain their Old World style andare made withassorted, long lasting materials such as solid types of wood like poplar, mahogany, oak, cherry or pine. Given their history, the Irish people have always been known for their devotion to religion. Although they are Christian as a majority, their religious affiliation stems down to two large groups: Catholics and Protestants. Whichever is the case, caskets are usually adorned with designs that make reference to the religion in question as well as Celtic heritage.
Traditional Celtic Coffins
Most Irish coffins today have some Celtic design on them. For example, at a specific coffin manufacturer there are ten different gorgeous varieties of coffins made out of wood and most of them carry a Celtic cross or brass ornament that represents the Celts in some way.  Other coffins make remembrance of the Last Supper which is an important event in the Catholic world. A lot of them have a few Celtic designs or elements carved on them such as intricate trim. There are also coffins that have ornaments made out of metals. These are usually attached to the borders of the wood as trim as well. It is very common to see metal Celtic crosses placed upon the lid of the coffin onceit's about to be laid to rest.

Irish Funeral Ceremonies
The Irish wake is well known around the world. The practice has decreased over time though there are still many people that have an Irish ceremony when relatives pass. The wake is usually held in the home of the person who died and the viewing lasts at least one day. Sometimes the families will hold a private wake in which only immediate family is expected to be present. Children usually do not attend unless they are immediately related to the deceased. The atmosphere at the wake is one of respect.People are expected to tell stories in remembrance of the deceased and it's normal that folks are laughing or crying throughout the wake. On the last day, the body is to be taken to the Church for mass. The coffin is to be carried by six grown men and when the mass ends, the coffin is taken in a procession to the cemetery or burial place.