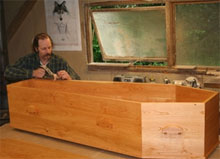 Coffins Resources
Making Coffins
A coffin is a funerary box used to house the body of a deceased person. The term 'coffin' originated from the Greek word 'kophinos' which means 'basket.' In the past, coffins were merely rectangular boxes used to bury the dead but ever since the beginning of the 20th century, it has evolved from being a simple box to something more special. Today, it is perceived as a representation of the person that rests inside it, for all eternity. You can now find many companies that build and supply coffins, and it seems that every design, shape, color, and style imaginable can be made.
Basic Information about Coffins
There are many types of coffins being used around the world. Because of the differences in burial practices, you can find coffins in all shapes and colors. Some cultures mark death as a festive celebration and this is why they use colorful and creative coffins for their deceased loved ones. In the United States, the affluent make use of elaborate coffins, while ordinary individuals choose the simple wooden types to bury their dead.  The materials used in making coffins also vary; but for the most part, they are made of different types of metal and different types of wood. If you want a coffin made of metal, you can choose between steel, stainless steel, copper, and even solid bronze. If you opt for wood, you can choose from ordinary pine boards to the more luxurious hardwoods, such as cherry, teak, and mahogany. For people who want to go green, they can have recycled materials for their coffins.
Pros and Cons of Commissioning the Experts in Making Coffins
In the past, only carpenters were capable of making coffins. But today, the industry has changed dramatically and in the country, it has even become increasingly centralized.  There are large manufacturers of coffins and there are also small-time makers that you can find in your locality. Opting to buy coffins from the experts would give you the advantage of being able to purchase a well-made coffin, especially if you buy it from reputable manufacturers. Take note that it is not always a wise idea to buy from funeral homes since they have the tendency to raise their prices in order to have a bigger profit margin.
Pros and Cons of Making Coffins on Your Own
A good number of people prefer making coffins on their own because of several benefits. For one, you can save a huge amount of money when building a coffin yourself. Materials and labor can be very expensive, especially if you leave it up to the funeral home to secure the coffin because they are usually after high profits. Another benefit of making the coffin yourself is that you can customize it according to what you want. There will be no restrictions and you'll be free to do as you please, when designing your coffin. But, you should also keep in mind that if you don't have basic wood working skills, it may be difficult and even frustrating to make a coffin all by yourself.