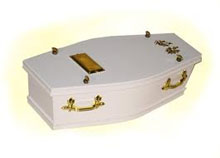 Coffins Resources
Infant Coffins
Child coffins are smaller than the normal-sized coffins. When a newborn dies, his final resting place would be in one of the smaller-sized coffins called infant coffins. These coffins are definitely smaller, and even from a distance you know how small the individual laying inside is. It is quite eerie to see an infant coffin being laid to rest, but this is the sad reality that everyone has to face. There is nothing certain in this life. It is merely given and can thus be taken away at any time.
An Overview on Infant Coffins
Since these coffins are rather small, you can find infant coffins made of polymer plastic. It makes use of polyethelyne material which is strong enough to provide durability, elegance and strength. The usual size of infant coffin are the following: 24 inches and 32 inches weighing about 27 and 47 pounds, respectively. Customization is also a trend that funeral companies follow nowadays. This is perfect for infant coffins because customized designs will afford some brightening on the moods of the guests and family members. For such orders, you should expect higher costs, but you should know that there are some companies who are willing to give free quotations for the specific order that you may have in mind. All you have to do is to give them your requirements, and they will get back to you with a helpful quotation. Quotations or estimations are important if you are working on a budget. This allows you to plan, without actually making any expense.
Types of Infant Coffins
Infant coffins come in different styles and designs. To bring more character and to take away much of the grief that is attached to funerals for people who are as young as infants, it is nice to go for a more creative route.  Here are some of the different kinds of infant coffins that you can choose from:
Baby Dream: This comes in pink or blue and it can be adorned with lace and whatnot.
Baby's Nest: This also comes in pink or blue and even almond color. The interior comes with a pad and a pillow which matches the floral appliqué.
Angels of Heaven: This is not really a coffin but more of a vault.
Shopping for Infant Coffins
If you are going to order coffins from an online store, although you may find some companies who will not charge for shipping, expect to shoulder shipping costs. If you do not wish to buy the coffin, and would just like to rent it, it is possible. Renting of infant coffins will be cheaper compared to buying. If this is what you choose to do, you just have to make arrangements with the rental company and inquire about their overnight rates. For online transactions, expect to pay through your credit card or other online accounts you may have. Not all companies will allow cash-on-delivery transactions so be wary that a credit card will be important. Otherwise, it may be easier if you just go to the shop and make your order in person.