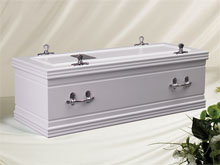 Coffins Resources
White Coffins
White is a color that is used to represent peace, purity and good. Basically it represents anything other than death. This is why the opposite color - black - is mainly linked with death and grief and evil and is the most common choice of color by people during funeral services. We see black in the clothes of most of the mourners, and even the coffin is black too
However we do see the occasional odd one out colored coffin - that is other than black in funerals these days. Sure now we can get a coffin in virtually any color or design we may want. We can find such stark varieties from the traditional black to even a KISS (rock band) themed casket to be buried in, for the ultimate fan. Though, the second most chosen color for a coffin is white, as proven by statistics that show the colors of coffin chosen by clients.
Why White Coffins?
Based on statistics, most of the white coffins that were ordered or purchased were those done so for the deaths of children. As sad as it may seem, some kids are robbed of their lives and never live a full life. Hence, the choice of white could be a representation of their innocence lost. Especially if they had died in a tragic way, like being murdered or being involved in an accident; as we know, white does represent innocence and purity - which are what children are too. Therefore that may be the main reason why children are buried in white coffins most of the time.

Other than that, around the middle ages, the use of a cloth called a pall to cover the coffin had become a norm. At first the cloths were colorful - each color having its own unique meaning. Then the choice of color for the cloth was white, and even later black. However, since and if the cloth covering was white, we could also say that the culture of a time also influenced the coffin to be white in appearance - a white coffin.
Cost of White Coffins
The costs of white coffins on the market depend on a few factors. Firstly, the material in which it is made of. Caskets are normally made out of materials such as metal and wood. Secondly the cost also depends on the quantity bought - like will all other items in the market. Usually funeral parlors buy the coffins in large quantities. Thus this would increase their profit when they sell it to an individual customer purchasing a whole package from them. Singularly, metal 16 Gauge Steel Batesville Caskets which are white can cost in between $2795 to $3105. Wooden white coffins on the other hand could reach a ranged in between $8000 to $9500 if made out of the finest mahogany wood.
Therefore, pre-arrangements are better to be made before one is dead in order to save cost. As when the death is imminent, relatives and friends can't really think about money and make a properly informed purchase in order to save money.