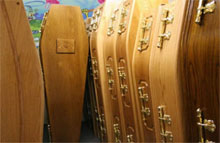 Cheap Coffins
Planning a funeral can be a financial burden to many people. There are so many expenses to think of despite having to cope with losing someone you love. Usually, it is buying the coffin that is the most expensive part of a funeral. Nowadays, there are other alternatives of buying cheap coffins on the market. These coffins are often environmental friendly as well. Therefore, cheap coffins do not just appeal to the poor but they are also attracting a new line of eco-conscious consumer as well. Continue reading this article to find out more about the different types of cheap coffins out there.
Cardboard coffins
These cardboard coffins are cheap and also sturdy. It is usually made of thick corrugated board with internal lining to support the base of the coffin. Besides that, this type of coffin also comes in various shapes and sizes. Furthermore, a plain cardboard coffin allows you to paint pictures on it. So, you can express your own artistic skill or you can hire an artist to do it for you. No matter how you look at it, cardboard coffins are able to give you a lot of freedom and diversity for a fraction of the price.
Willow coffins
Another type of cheap coffins is known as the willow coffins. They are also called the wicker or basket coffin. This should not be new to some of us because it used to be really popular during the 19th century. Besides being cheap, these willow coffins also look elegantly beautiful. They are usually hand woven and come in different shapes as well as color. Moreover, it is also 100% bio-degradable. Most people will buy a willow coffin for babies or their pets. However, it is now gaining popularity among adults.
DIY coffins
Yes, you read it right. One of the growing trends in cheap coffins is Do It Yourself coffins. It may sound weird like it just comes out straight from a horror movie. However, this may be a really smart alternative for many people. The interesting part is you can actually build your own coffin before your time. Think of it as a form of reducing the financial burden for your family. For others, this may be their last act of love to their family members. Furthermore, most DIY coffins are usually made to serve different purposes besides becoming the last resting place. Some can be used as a coffee table or a place for you to store your crystal glasses. It is not necessary that you have to build your own DIY coffin. You can actually hire someone else to do it for you. The cost of labor will still be cheaper than purchasing a ready-made model.

Besides what is stated above, there are many other types of cheap coffins such as paper mache and bamboo coffins. All these coffins are also environmentally friendly and sustainable. Therefore, before deciding to go the conventional way and scorn these cheap coffins, you may want to move towards the new future.