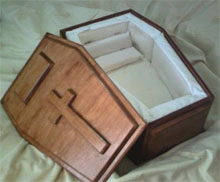 Small Pet Coffins
Experiencing the loss of our pet can be a traumatic experience especially if you have shared many years by their side. Even though memorial services are usually held for people, special pets are no exception. Most people decide to bury their pets in their own backyard, however, nowadays there are different types of coffins available for pets. Even if you want to hold a memorial service for a small pet such as a hamster, folks are able to purchase small pet coffins online. Any mouse or guinea pig deserves a good funeral and there are many coffins available for them.
Snake, Guinea Pig, Sugar Glider or Other…
Many of us have had different types of pets.Whether small, medium or large, at the end of the day they've stolen our hearts. We might think that it is easier to find coffins for larger pets such as cats and dogs but the truth is there are coffins for smaller pets like guinea pigs and sugar gliders. To find the best coffin for your small pet, it's best to know the dimensions of your pet.When measuring make sure to measure from the tip of the nose all the way to the base of the tail andbe sure to measure from the knees to the upper part of the back. This should give you a better idea of which small coffin will suit your pet best. In mostcasescoffins made for smaller hamsters will easily fit a sugar glider.
Saying Goodbye to Your "Lil' Friend"
Just like the Dr. Seuss story says "A person's a person, no matter how small", the same thing holds true with pets. No matter how small, pets still manage to bring us joy and happy moments. Saying goodbye to them is a bittersweet moment because as much as they'll be missedyou also know they're headed to a better place. According to the story, after death all pets head to the meadow on the other side of the Rainbow Bridge. Our little friends should be joining their bigger friends at the meadow to play. Make sure to give them a proper farewell by choosing a coffin we know they would've liked and reunite them with family in order to share precious moments before laying the little friend to rest.
Coffins for Small Pets
There are many different pets that are small in size but huge in companionship and sharing. There are different sizes of coffins available for small pets such as mice, hamsters, guinea pigs, sugar sliders, and birds. They're specifically for small pets and have the same comfort and style that bigger coffins feature. No matter how small your pet is there is a coffin available for it. You can also choose to have the coffin custom made in order for it to fit any sized pet that may have parted. Having a custom-made coffin will more efficiently fit your little friend and they can be adorned to honor the memory of the departed.